May
2011
Dear All,
I hope you are well. Welcome to the Swedenborg Society May e-newsletter. Read on to find Swedenborg-related news, reviews and upcoming events. These include a forthcoming art performance by the Parlour Collective; news of the Swedenborg Short Film Festival, now open for entries; an article on Swedenborg and Baudelaire; a review of French film

Enter The Void

; and a recommendation to buy

Ed Chell: In Conversation

, a new Swedenborg Society publication.
Enjoy!
Best wishes,
Nora Foster
Publicist & Assistant Curator
The Swedenborg Society
www.swedenborg.org.uk
News since April
Following the trials and tribulations of the last few months, our new website is almost finished! You can now buy our books via the re-designed online bookshop. The library online archive will also return very soon. Meanwhile, in the non-virtual world of the Swedenborg Society, we enjoyed a very interesting talk by Dr Iain McGilchrist in Swedenborg Hall on 7th April; the Manchester screening of

Heaven, Hell and Other Places

was also a thoroughly enjoyable event, incorporating the northern launch of

Heaven and Hell

and Norman Ryder's

Bibliography (vol. 1).

Both publications and the film received a wonderful reception. We enjoyed ourselves so much that we are determined to return to Manchester with another 'Swedenborg Society Roadshow'. Back at Swedenborg House, future plans have taken an unexpected turn with the confirmed involvement of Dutch lute maestro Jozef Van Wissem, as part of the Bloomsbury Festival in the autumn. His performance in Swedenborg Hall will complement Madeleine Waller's artist residency exhibition opening on 21st October 2011.

News
Swedenborg Short Film Festival 2011










Deadline for submissions: 30th September 2011



Festival Screenings: November 2011



The Swedenborg Short Film Festival 2011 is now open for entries and will take place in the Society's grade II listed neoclassical Hall. Following the success of last year, we hope the Festival will continue to establish itself as an annual landmark event on the UK film calendar.

Featuring films of 30 minutes or less, the heart of the Festival is to showcase the latest new and established talent. Films should respond to themes encountered in the work of Emanuel Swedenborg. These could include concepts of beauty, vision, truth, space, time, love, natural science, physics, metaphysics, wisdom, morality, immortality, belief, states of mind, heaven, hell and the places in between ... And so much more. So there is plenty of scope for creative visual responses. Please feel free to use your imagination.

A shortlist of works will be screened in front of a public audience in Swedenborg Hall. View last year's award-winning films here. View further information on the Swedenborg Short Film Festival here. Filmmakers seeking to submit should contact nora@swedenborg.org.uk.


If you are looking for inspiration we recommend a new volume of essays, written by assistant editor James Wilson, to accompany the Swedenborg Film Season last year; Images of the Afterlife in Cinema looks at 'Swedenborgian' themes encountered in cinematic history, and is available to buy in the bookshop now.
Article
Swedenborg and Baudelaire (1821 - 1867)
The great symbolist poet Charles Baudelaire was born almost exactly 150 years ago.

Swedenborg's Science of Correspondences appealed to the poet's reading of visual reality as a language in its own right, constantly seeing vital and often visceral associations between taste, touch, sound and vision. Like Swedenborg, Baudelaire instinctively pursued an idea of aesthetic unity: a unity of sensual experience, of physical and metaphysical existence, and of artistic expression. Swedenborg's philosophy informs the radical approach of Baudelaire's poetic masterpiece,

The Flowers of Evil

- described by TS Eliot as the greatest example of modern poetry in any language. The poem 'Correspondences' has resounding 'Swedenborgian' allusions and is written out below.

If you would like to read more about Swedenborg's influence on Baudelaire, we highly recommend Gary Lachman's essay 'The Spiritual Detective: How Baudelaire invented Symbolism, by way of Swedenborg, ETA Hoffman and Edgar Allan Poe', featured in the Swedenborg Society Journal no. 4,

Between Method and Madness: Essays on Swedenborg and Literature

.
Correspondences
By Charles Baudelaire



Nature is a temple, where the living




Columns sometimes breathe confusing speech;




Man walks within these groves of symbols, each




Of which regards him as a kindred thing.





As the long echoes, shadowy, profound,




Heard from afar, blend in a unity,




Vast as the night, as sunlight's clarity,




So perfumes, colours, sounds may correspond.





Odours there are, fresh as a baby's skin,




Mellow as oboes, green as meadow grass,




- Others corrupted, rich, triumphant, full,





Having dimensions infinitely vast,




Frankincense, musk, ambergris, benjamin,




Singing the senses' rapture, and the soul's.



Taken from

The Flowers of Evil

by Charles Baudelaire (Oxford University Press) BUY THIS BOOK.
Why not come see us?
20 Bloomsbury Way, London, WC1A 2TH
9:30 am - 5:00 pm Monday - Friday.
www.swedenborg.org.uk

Events 2011
13 May:

Parlour Principia: A Swedenborg/Art Performance by Palour Collective



30 June: Swedenborg Society AGM

2 September - 30 September: Swedenborg Film Season

30 September: Deadline for submissions: Swedenborg Short Film Festival

21 October: Bloomsbury Festival at the Swedenborg Society: Madeleine Waller Exhibition Opening + Jozef Van Wissem Performance

We are also confirming a collaborative event with Sternberg
Press for June 2011 and an evening with writer and mythographer Marina Warner for November 2011.
Our programme of events is constantly evolving. Please keep checking our website
www.swedenborg.org.uk
. Members who join the Society in 2011 receive a 20% discount on entry to paid-for events and advanced booking for free events.
Parlour Principia
A Swedenborg/Art Performance by Parlour Collective
Friday 13 May
2011

6.30 pm

Admission: Free

Throughout Swedenborg
House

Featuring:

Brian Catling & David Tolley (video performance); Riffat Ahmed; Thomas Jeppesen; Kirsten Norrie; Holly Slingsby; Jack Catling; Yuko Morita; Aaron Williamson; George Petrou; Tim Levin; Alexandra Santos

Parlour Principia is a singular site-specific event, taking place on Friday 13th May. The Parlour Collective is an international group of contemporary artists, exploring aspects of history from imagined perspectives. The Collective, led by performance artist Jack Catling, produces shows which embrace the space they inhabit, forming an extension on the history, atmosphere and mystique of the environment in which they are produced.

Parlour Principia

will be an evening of performances, staged throughout Swedenborg House; each act not only corresponds to the building, but to the life and ideas of Emanuel Swedenborg. The Collective is founded by artist Jack Catling, whose work is aimed at 'invoking mystery, and allowing the viewer a moment of wonder.'

Parlour Principia

will also herald the return to Swedenborg House of artist, academic and poet Brian Catling

.

A lucky few of you may remember his performance with Iain Sinclair last year, when their dramatic reading based on the Swedenborg archive captivated a large audience in Swedenborg Hall.

This Friday, we invite the audience to arrive by 6.30 pm, and then to move around the building, encountering individual performances as they happen. Admission is free but capacity is limited, so please contact nora@swedenborg.org.uk if you would like to come.


New Publication
In Conversation: Edward Chell

With Amy Halliday
Designed & Edited by Stephen McNeilly

Swedenborg Society 2011
£6.95





As part of the major site-specific exhibition,

Swedenborg House: Fourteen Interventions,

Edward Chell created

Ten Steps to Heaven

, an installation piece consisting of fourteen handrails and a plaque. In this articulate and revealing interview with Amy Halliday, Edward Chell explains how Swedenborg's ideas inform the striking design of his artwork; its conceptual correspondences to Swedenborg's scientific investigations and his spiritual conscience, to types of knowledge and forms of narrative.

Ten Steps to Heaven

is still on show in Swedenborg House, so please feel free to come and have a look!


This publication is fully illustrated and available in the Swedenborg Society Bookshop now.
BUY THIS BOOK
In Conversation: Edward Chell
is the second in a series of artist interviews published by the Swedenborg Society; the first limited edition booklet being
In Conversation: Paul Tecklenberg
(Swedenborg Society Artist in Residence no. 1)
Visit the Swedenborg Society Online Bookshop

Review
Enter the Void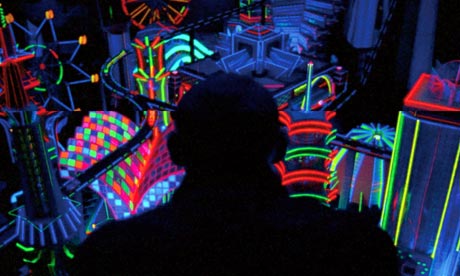 A film by Gaspar Noé
On DVD general release now
Enter the Void

is a visually exhilarating, often shocking, dramatization of one man's journey into his own personal hell.
The Tibetan Book of the Dead
(often alluded to in studies of Swedenborg's
Heaven and Hell
) is quoted by one character before the protagonist, a dead drug dealer, performs the text, entering the void of his infinite existence.
This is the disorientating and electronically-charged environment of modern day Tokyo.
In arguably 'Swedenborgian' style, the deceased's experience is simultaneously hyper-real and hallucinatory. He is living in his constructed reality, similar to that before his death, but this reality is sharpened: it is both brighter and darker, accelerated and decelerated, crazed and horribly rational. The viewer witnesses the deceased's past life and his present state, through his eyes, but as if he is experiencing an outer body experience; the

Guardian

's Peter Bradshaw calls this the 'dead man floating eye', a revolutionary style of filming which produces a fully immersive cinematic experience. Read a full review here.

Membership to the Swedenborg Society


We have recently upgraded the terms of membership to the Swedenborg Society, in line with other learned Societies and Registered Charities.

For only £20.00, or £15.00 a year for concessions, members who join the Society in 2011 now receive:
A 20% discount on all books in the Swedenborg Society Bookshop

Reduced entry to all events, as well as priority booking for all free events.

The annual report through the post


A regular paper newsletter (PL Johnson's

Things Heard and Seen

) through the post

This e-newsletter via email.
In these ways we hope to foster a greater sense of involvement amongst our membership, and continue the energetic work of this historic institution.
See more details on Swedenborg Society membership, and download the membership form here.

Visit the Swedenborg Society Website